echo strtoupper(get_the_title()); ?>
OUR STORY
The history of Game Creek Video is in its people. Our 20-year ride began with 2 trucks, 6 employees, a hope, and a prayer. It has since successfully evolved into a thriving business, setting industry standards and comprising of a fleet of 35 trucks, a team of over 100 employees, and a presence at virtually every major televised sports and political event in America.
Game Creek Video continues to set industry standards, with a presence at virtually every major televised sports and political event in America.
Our people and our customers know they will be heard and that their point of view will be respected. Employees understand that they are part of something special and they will be challenged in coordinating, driving to and from, and engineering the greatest events on television. The result: a special team of people who come to Game Creek and choose to stay. We are incredibly grateful that so many of the people who began this adventure with us are still passionately working with us today and that we can be the kind of company that attracts the brightest new talents in the business.
The Early Years
In the late 1980s, Patrick Sullivan, Founder of Game Creek Video, was finishing a 30-year association with the Boston/New England Patriots. The television landscape was changing dramatically and he noticed that the big three networks – ABC, CBS and NBC – were utilizing independent firms such as TCS, NEP Supershooters, and Unitel to provide remote production facilities (TV Trucks) for the production of National Football League games.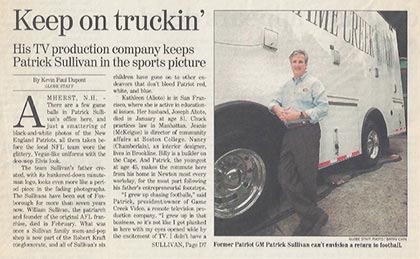 When Sullivan left the Patriots in 1990, he explored the idea of investing in one of these TV Truck companies. With patience and diligence, he was able to find the right deal by October of 1993. With the purchase of two trucks from Sure Shot Teleproductions, Game Creek Video was born.
In its early life, Game Creek had no customers under contract, a flawed business plan and two television trucks that needed love, passion, and dedication. The journey has been as complex as it has been simple. Finding office and shop space, raising capital, and meeting the changing needs of the customer and industry were all challenging, particularly in the early years.
The original business plan was to concentrate on serving the regional sports networks in the Northeast, such as NESN and MSG. However, the plan did not predict that cable TV would jump from 24 channels to hundreds of channels. It did not foresee that Title IX would mandate equal opportunities for women in college sports, resulting in hundreds of women's sports events being televised each year. It did not predict that a new broadcast network, FOX Sports, would become such a force in the production of live sports events. It had no insight into each league's plan to form its own network. It had no knowledge that ESPN would expand from one network to several, all of which would need content produced from remote locations.
Game Creek happily and swiftly strayed from the original plan to fulfill these needs. Years later, we revisited the original idea of serving the regional sports networks and accomplished that goal as well.
A Series of Firsts
As Game Creek grew and added people to its team, it cultivated a reputation for quality engineering and began attracting attention as a desirable place to work. The early hires dealt with the idiosyncrasies of trucks designed by others, but by 1996, we executed our first truck build, Northstar. While it was far from perfect, we were very proud of our progress, and it readied us for the explosive growth we would face in 2000 with the acquisition of an unfinished ESPN trailer, re-named Eagle.
At the same time, our Intrepid unit was assigned to ESPN's coverage of NASCAR, which solidified our ability to do large-scale productions. Then 2002 saw the construction of Southern Cross, our last standard definition unit, and the basis upon which all of our future designs were built. As a "router centric" facility, Southern Cross was the first of its kind in the industry and enabled Game Creek to broadcast the 2002 World Series. This production would result in a long-term relationship with FOX Sports, one that continues today.
By 2004, when the transition to high definition television was in full bloom, Game Creek had solidified its reputation of designing and building high-quality production units that were powerful, flexible, and quick to set up. Our first high definition facilities – Patriot, Clipper, and Freedom – were built in 2004 and 2005. Patriot's first show was the NBA Conference Finals and it revealed Game Creek's engineering reliability with a flawless performance.
In 2006, we took a major technical and strategic leap forward when we built a five-truck system for FOX Sports; these trucks would soon become the basis of the design for our next generation. We were the first mobile facilities provider to successfully introduce and implement a fiber optic interconnect system that could quickly integrate this massive infrastructure. As part of this system, we designed and built the famous Hollywood Hotel for FOX, a unique unit in the fleet that is used as an actual television studio when deployed at NASCAR events.
Leading the Industry and Looking Ahead
Starting in 2010, Game Creek was once again the first in the industry to build a facility with a complete 3G/1080p infrastructure. The A & B units in this facility have fiber connectivity for quick set-up and maximum flexibility. Dynasty, which was built for the YES Network, has been the mobile facility for every New York Yankee home game and four World Series since its launch in 2010.
Game Creek continues to explore new technology while meticulously maintaining its existing production units.
Since 2010, Game Creek has led the industry in the number of new facilities built with ten new production units along with three B units joining our fleet. All of these units have a 3G/1080p infrastructure. Additionally, two of our original high definition units have been re-built, with upgraded routing, monitoring, and audio capability.
2014's build season will be packed with renovations to existing units, the build of at least four new units, and the addition of exciting new clients. Game Creek will keep its commitment to purposefully exploring new technology while meticulously maintaining our existing fleet.
Our mission started in 1993 with a simple proposition: be the best at what we do. In every phase of our business, everyone from drivers to engineers to production coordinators to office and shop staff understands that this proposition is what drives us to work so hard each day.
And, the one simple component that will continue to result in the growth and enhanced reputation of Game Creek: its people.