echo strtoupper(get_the_title()); ?>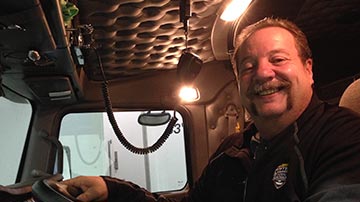 Tommy, A-Unit Standalone Driver
Hired in 2004
Tommy has been in the entertainment business for an impressive 38 years. In his former profession, Tommy toured with the biggest bands in the music industry and was responsible for the transportation of rock stars' tour buses and stage trailers.
Ten years ago, Tommy left the rock and roll scene when he discovered Game Creek Video through friends. He enjoys working at Game Creek Video because, "After ten years of service, I can still say that I work with the nicest and most professional people I have ever met."
Tommy drives the $8MM Larkspur production trailer, a standalone unit that serves as the primary broadcast facility for College GameDay. GameDay is one of the largest properties for ESPN, one of Game Creek's largest clients, and ESPN counts on Game Creek to be on time, on location, and up and running to meet its intense demands each Friday and Saturday during the college football and basketball seasons.
"The role of Driver is much more than just driving the unit from one location to the next."
Tommy is not only responsible for driving to and from the weekly locations (often times not determined until late Sunday night). He also takes great pride in making sure his truck is spotless inside and out, set up, and ready for the rush of production personnel when they arrive on site with great expectations. Much of this set-up comes with the leveling and expanding of the production unit and frequent communication with his engineering team on Larkspur. Tommy has taken the opportunity of being on the road to share his cooking skills with the GameDay crew. Everyone knows they will be fed well the days Tommy is at his grill. He even had a featurette on a cooking show because of this tradition!
Tommy is on a first name basis with over 50 crewmembers responsible for putting GameDay on air each weekend. He has earned the trust and faith of the operations team at ESPN and has become fully integrated in the Game Creek/ESPN partnership. He remarks, "In our industry, having excellent people skills is essential as you are interacting with many people – everyone from network personnel to stadium and arena staff. So, the role of Driver is much more than just driving the unit from one location to the next."