echo strtoupper(get_the_title()); ?>
2017 US Open – Erin Hills, Wisonsin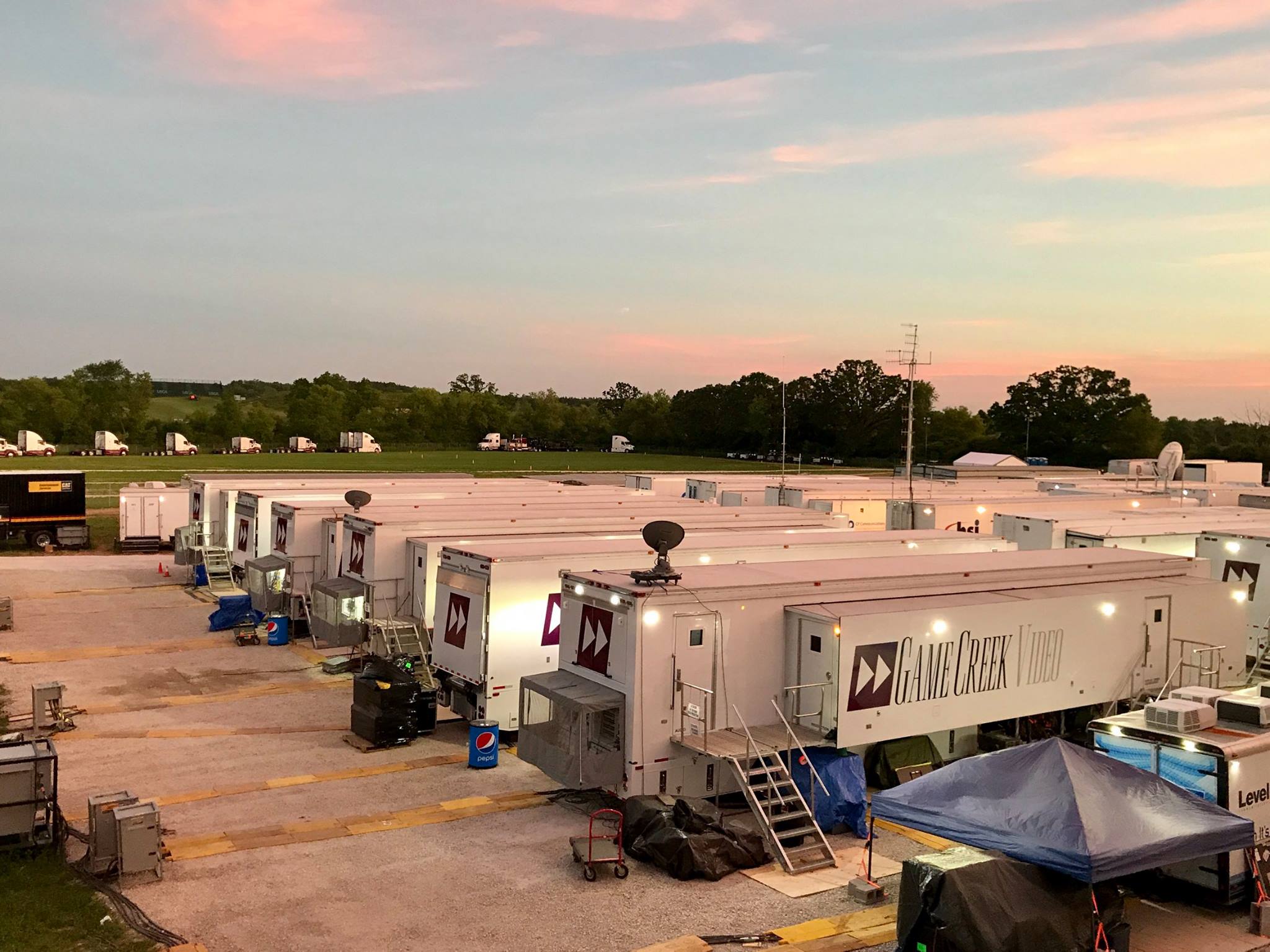 Thirty-five miles northwest of Milwaukee you find yourself in the quintessential American heartland. Thick woodlands, dairy farms, Sand Hill Cranes and kettle moraines – a truly unconventional location for a golf course. Three spires of the Holy Hill Basilica stretch into the sky, pinpointing the site of the 2017 US Open Championship. In 2004, former cow pastures were converted into Erin Hills, a public-access golf course that blends traditional and modern architectural elements into a challenging set of 18 holes, unlike anything golfers have ever played. For two weeks in June, an equally impressive transformation took place in the meadow just north of the 14th fairway, which became a staging ground for one of the largest remote sports broadcasts of the year.
Game Creek Video deployed 16 engineers and 14 drivers to support 8 mobile units for Fox's broadcast coverage of the event. The scale of this production surpassed previous years with shot-tracing technology on every hole, increased air time for studio support shows, and 4K coverage of holes 13, 14, and 15. The 4K live feed was transmitted in 2-SI while also providing 720p HD outputs of cameras for the main production.
Cutting-edge video production showcased 110 cameras. 31 hard cameras spread about the course were equipped with either 95X or 100X Canon lenses. 26 RF handhelds and 3 RF tracer cameras populated the airwaves. Among the most technically impressive gear in the field were 3 Inertia Unlimited X-Mo's and a Sony HDC-4800 operating at 960 frames per second. A 4K compatible Sony F55, transmitted via RF, brought artistic elements to feature hole coverage. Production teams were pushed to the limits with the addition of 4 jibs, a 75 foot Strada crane, and an 18-foot tower camera mounted to a John Deere Gator. On the audio side, 216 microphones fed 6 Calrec mixing consoles interlinked through the Hydra network, and an additional 6 Brios fed via Madi. In-cup microphones were installed on each of the 18 greens.
"Life on the road is rewarding when you roll with a family that you can count on to get the job done right."
— Christian Colantonio
The success of this broadcast depended on a talented team who overcame many unpredictable obstacles. To start, drivers and heavy equipment crews were challenged with parking a fleet of 53-foot trailers in a muddy alfalfa field. Adding to the list of uncontrolled variables, a corporate advertising blimp burst into flames and crashed near the course! High heat and heavy rain put a considerable strain on equipment and personnel. But when it came down to the final day on air, approximately 8.3 million viewers had a crystal-clear view as Brooks Koepka sank the championship putt. That is the moment which truly counted.
Starting out in Game Creek's apprenticeship program last spring, I could not have imagined all of the places and outstanding people this job would introduce me to. Work in mobile television is a rugged journey and there is no better place to be an engineer than onboard a Game Creek truck. The opportunity to work on a show of this magnitude will remain with me for the rest of my career.
Christian Colantonio, Engineer
Learn more about: Encore, Maverick, Pride, Edit 2
Previous Stories
2015 US Open – Chambers Bay Golf Club University Place, Washington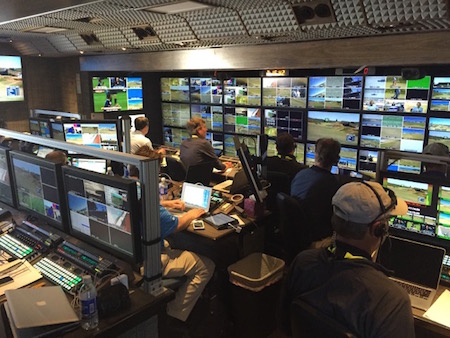 Game Creek Video was the exclusive provider of remote production facilities for Fox Sports' first ever production of the US Open Championship. Game Creek's Encore, accompanied by the world's first large scale IP based routing system in a remote production facility was the primary home for all event coverage. The unprecedented new workflow enabled Fox Sports to maximize its production of one of golf's most prestigious major championships.
"Game Creek's Encore, accompanied by the world's first large scale IP based routing system in a remote production facility was the primary home for all event coverage."
Game Creek Video put this massive system together with 14 world-class engineers led by Project Manager Mike Copeland who said, "We began planning for this event 18 months ago. With this planning came the creation of Encore, which turned out to be the ideal facility for an event of this magnitude. Countless hours of preparation have led to this – the largest single event in the history of remote television, and an outstanding on air product for our longtime partner and client – Fox Sports."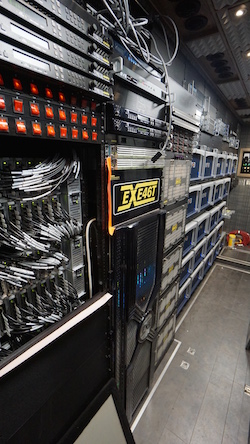 Game Creek deployed over 65 Sony cameras of the 118 on site, including ten new Sony 4300 cameras, accompanied by Canon 95 x 9.3 and 100 x 9.6 lenses. Engineers Lucas Males, Keith Martin, Ray Laird and Rob Somand facilitated the main feed based around the new Evertz EXE SDVN provided Fox with the capability to facilitate 850 router salvos, 10,759 source virtual ports, 10,142 destination virtual ports, 1,558 images in Encore alone, 13 TX Paths, 70 discrete feeds to Glory, 86 to Pride, 47 to Justice and 88 discrete feeds to International. There were 370 HD-SDI feeds in total leaving Encore.
On the audio side, over 200 microphones were fed into 4 Calrec Apollo Audio consoles, 1 Calrec Artemis, and 2 Calrec Summa consoles as well as 24 Hydra 2 boxes spread throughout the course. Five booth kits serviced 3 different studio sets for Fox. Game Creek used 58 MADI outputs, 288 channels of TDM audio and 5,592 Calrec audio channels between Encore and Justice alone. The audio router size for the US Open: 15,296 X 13,504. Fox utilized all 656 ports across 3 tri-bussed intercom frames.
On the replay side, 37 EVS replay servers (24 XT3's, 13 XT2+'s) and 164 channels of replay populated the production system, with 52 play out channels. Throughout the compound, 19 IP directors, 3 Database Servers, 9 XT Access Engines, 5 XFile 3's, 16 XHub3's and 27 remotes came together to write over 25,000 files. 5,751 clips and 1600 hours of record space collectively created the largest remote EVS network ever deployed in a remote television production. Fox utilized four of the new EVS multi review system that allows the operator to call up templates for different holes and see all of the available camera angles.
"Countless hours of preparation have led to this – the largest single event in the history of remote television, and an outstanding on air product for our longtime partner and client – Fox Sports. – Mike Copeland, Project Manager"
Alongside Encore, Game Creek deployed "Glory" for Fox Sports' US Open 360 Program, which had access to many sources and was fed to various other Fox Sports productions at any time. Engineers Ross Granger and George Bailie reallocated the unit in such a way that the video room was utilized as the primary shading area for main event coverage including 18 Tracer Cams located on the tee boxes. Glory also serviced much of the distribution to multiple office trailers housing audio ISO mixers, NextVR (virtual reality), Pro-Tracer, Announce Booths and VIP areas. The tape room was utilized for Hego Touch Screens for both the 360 Show and the Studio Show.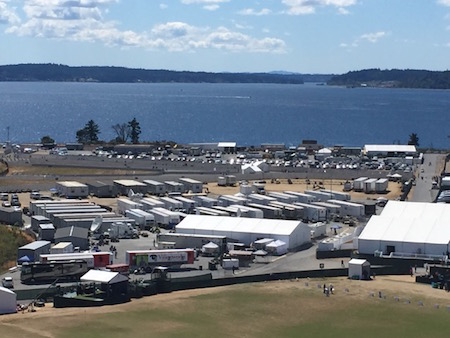 Glory B was the facility for the Feature Hole digital show (Hole #'s 12 & 15). In the front bench was a Karrera 3ME production switcher that works alongside a Calrec Summa audio console.
GCV B3 was utilized by engineers Loren Gruenberger and Oscar Dennie as a home for new technology initiatives and as the transmission hub for the compound. Swiss Timing enhanced cameras as well as 2 drop cams and 2 4K camera systems populated the rest of the truck.
The Calrec Apollo in Justice was utilized by engineers Mark Demalon and John Patton as the Main Event Submix, which was linked via fiber to Encore's main console. The Production Room was responsible for the Feature Group show. The tape room was utilized for Hawk Eye's green enhancing technology and for virtual eye technology.
Pride Audio, Production and Replay was utilized by engineers Chris Monroe and Loren Gruenberger to produce the Studio Show. The video room was utilized for event and feature group camera shading. Engineers Mike Ott and Ethan Bernstein provided non-stop support for over 65 cameras and lenses over the 7200-yard+ golf course.
In total, over 155 hours of programming over the course of four days was generated out of these various mobile units.
Check out this great article by SVG on the US Open! We are so proud of our team! SVG – 2015 US Open
2015 FIS World Skiing Championship
A Recount from Project Manager George Bailie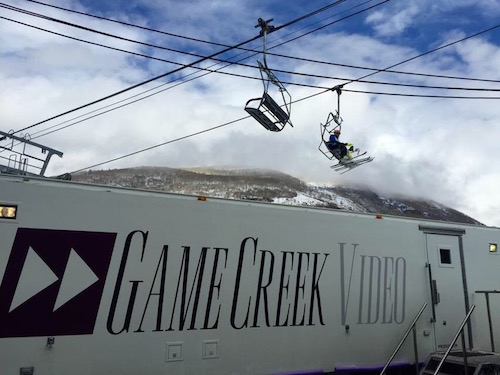 Hearing names like Miller, Ligety, Vonn and Mancuso bring to mind vivid memories of watching our Team USA athletes go for the gold at the Winter Olympics. It will be no different for ski fans looking back on the 13 days of this year's FIS World Championship coverage from Beaver Creek and Vail, Colorado. Capturing and conveying the unbelievable performances on the slope is a very complex process that remains mostly invisible to the viewers at home. The topographical and meteorological nature of the venue play a huge role, as do the sheer forces and speed involved with a world class course like Beaver Creek's Birds Of Prey. With up to 2,500 feet of elevation change, it's not a forgiving place for television equipment. With an unprecedented amount of support from Game Creek Video and the vision of our director, Michael Koëgler from Eurovision, we were able to bring the excitement and drama of these events to the eyes of approximately 750 million viewers around the world!
"With up to 2,500 feet of elevation change, it's not a forgiving place for television equipment."
After years of planning and prep work from EPC, Vail Valley Foundation, and Game Creek, we were ready to chain up the 5 mobile units (Dynasty A/B, Amazin', Liberty, and Gemini) and head to the slopes. Dynasty A/B and Amazin' were located in Beaver Creek for the Speed and Technical Events, while Liberty and Gemini parked in Vail to cover the National Team Event, Legends Race, Opening/Closing ceremonies and daily medal ceremonies.
With multiple sites and many different configurations for both the Men's and Women's courses, we knew that an incredible amount of equipment was needed to pull everything off. GCV deployed an unprecedented (74) Sony 1500/2500 HD Cameras and (6) Sony 3300 HD Super Slow Motion cameras. In addition, we provided support for specialty cams like (6) High Speed Antelopes/Pico Polecams (Provided by LMC), the CamCat cable system, and GoPro's for the camera runners. Viewers were able to watch the amazing coverage from over 200 camera angles, with detail so clear that each snowflake was visible from the chattering edges of the skis. CamCat provided an unmatched aerial prospective, with technology that made for a safe and legal alternative to a drone camera. The camera/cable system ran over 300 yards from the Golden Eagle jump to Red Tail Stadium and is one of the few systems in the world capable of tracking at such high speeds. With the combined results of meticulously planned camera positions and plus this top of the line technology, Game Creek televised skiing in a way was previously impossible. Beautiful scenery in all directions didn't hurt the jaw-drop factor either.
"With the combined results of meticulously planned camera positions and plus this top of the line technology, Game Creek televised skiing in a way was previously impossible. Beautiful scenery in all directions didn't hurt the jaw-drop factor either."
The events at Beaver Creek provided some new challenges in the way we provide production facilities on this scale. With so many camera control units (CCU's) on both the Men's and Women's courses, it was decided that the best way to handle our workload was to have one truck for Men's course events (Dynasty) and one for Women's (Amazin'). Each truck backed up the other's paths, and video and tape rooms shared all resources. This necessitated all camera, replay, and program feeds to be completely integrated to both units, with virtual tally provided by Image Video to make the integration seamless.
Dynasty B was used to house the LMC team and "Precut" production, which used two external Grass Valley M/E panels tied to each truck's switcher via the internal GCV network infrastructure. EVS networks were tied with fiber that was run between Beaver Creek and Vail to push content over the 10-mile distance. Michael Gillman of Gillman Technologies provided RTS trunking and communication support for the complicated camera swings as well as RVON connectivity to the International Broadcast Center for World Feed+, Swiss Timing and CamCat. To minimize the potential for technical issues associated with an event this size, we brought in onsite support from John Geiger at Sony; Josh, Tony, and Terry from Canon; and Kristen Gruca as our EVS expert.
"Being the host broadcaster brings the great responsibility of distributing all the events to the world."
Being the host broadcaster brings the great responsibility of distributing all the events to the world. "The World" in this case was manifested on the side of the mountain as a massive 3-story 30,000 square foot temporary building known as IBC. The International Broadcast Centre housed Master Control, 12 production studios for rights holders such as NBC, SRG SSG, multiple vendors, as well as the World Feed+ production which provided hours of extra replay clips, highlights, and Precut production to rightsholders. Franck Reynaud from AMP Visual TV worked closely with us on behalf of EPC for the technical concept work as well as distribution to and from the mountain via Riedel Mediornet/Rocknet transport devices over 576 strands of fiber. Adam Lueck from VVF had the arduous task of prepping and managing the TV compound and IBC. This was no walk in the park, as the Colorado weather resembled spring training in Florida for much of our visit and caused the compound to slowly melt by day and then freeze by night. GCV and VVF had to work closely together to combat the elements.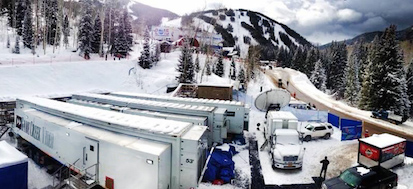 Our logistics team at the shop had their own mountain to deal with in the form of almost 200 equipment cases with thousands of components to track. The task of organizing and documenting was monumental! A job of this size spotlights the teamwork of our company with so many resources working together across our fleet. This event included the largest single site production, to date, in Game Creek Video history. I'm honored to have pulled it off with the GCV talents of Steve Molnar, Riley Helsen, Mike Thompson and Kyle Sullivan at Beaver Creek and Shawn McStay, Rob Poser, Larry Hildreth, Oscar Dennie, and Ruben Vela Jr. at Vail. Hats off to Marty Gaujenieks for his groundwork and to Engineering/Operations in Hudson for making it all possible!
As we all packed up for one last trip down the mountain, it finally became a reality that we were leaving the beautiful place we were lucky enough to call home for a month. Before the powder, ice (and mud) faded away into the distance, I caught one last glimpse of the Game Creek Bowl at Vail and knew we were meant to make history in broadcasting what is, personally, my favorite sport.
Congrats to everyone and cheers to a great show!
First ever College Football Championship
A Recount from Engineer Brian Nupnau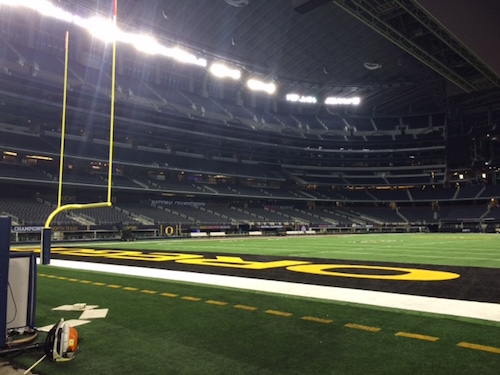 Ready-Roll Lazer sound full, roll-take-track! Take 20, start your move, ready 49-take, ready 16-take 44, ready 7-take 7, hit your music!! Even after over 30 years of being in television, I still get excited every time I hear the opening called on a live show.
Most people sitting at home watching a game on television, may not really think about what goes into the broadcast of a large event, but once you hear a show called by the director, you will never look at it the same way again. There is a certain type of tension in large events. It's a combination of excitement, nervous energy and to some extent, even fear. In the case of the first ever College Football Finals, we knew millions of people would be watching history in the making. This was the "Mega Cast", 32 separate transmission paths being broadcast on all of the ESPN channels at the same time. To give you an idea of that significance, in most sports events there are 4-12 paths of transmission.
By the numbers, this was a large show by any definition. Game Creek had 8 mobile units present. At Cowboy Stadium, we had Spirit A/B, Glory A/B, Larkspur and Discovery. In other parts of the city there were Justice and Gemini, all producing different shows based around the same event. The core game coverage had over 60 cameras including 5- Sony F55, 5-Sony 2500 2x Super Mo, 4-4k cameras, 11 hard cameras, 10 h/h cameras, a strata crane, jibs, Steadicams, Blimp, and RF cams. 16 EVS servers, 2-16 channel Dreamcatchers, Viz RT graphics systems, telestrators and various animation systems. This show was all about jumping into the deep end, pushing technology to its limits.
"This show was all about jumping into the deep end, pushing technology to its limits."
I am one of 3 engineers on Game Creek's Spirit unit, which was broadcasting the main feed to the Nation. Spirit rolled out in August 2014, we did 14 regular season CFB games, the ACC Championship, the Rose Bowl and culminating in the National Championship. The show came off flawlessly. I cannot say enough about my fellow engineers on Spirit, Paul Saffell and Mike Duke; you guys make it look easy.
As in any live event, there are no re-takes. If something goes wrong, millions watch it. We had spares of everything. Redundant plans on top of redundant plans. Nothing was taken for granted. The compound was powered with two sets of dual generators synced together and backup by shore power, UPS system on critical gear. Emergency plans for everything from fire to earthquake. Over 200 people worked together for a week to make sure everything was perfect.
So, as the director spoke the opening lines, all of the effort and energy came to fruition and illuminated a record number of screens around the Nation. And I sat vigilantly in the engineer chair and smiled.
World Series, A Fresh Perspective
A Recount from Broadcast Technician, Mike Thompson with contribution from Apprentice, Daniel Parkinson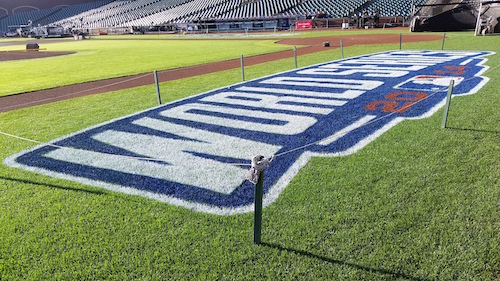 Six Game Creek Video engineers crossed the San Francisco Bay via the Lefty O'Doul drawbridge at approximately 7:30 AM on October 22nd. The sun was just coming up as they made their way down the San Francisco Bay Trail towards AT&T Park. Four of the six engineers knew exactly what to expect as they walked into the ballpark. The other two, one a broadcast technician and the other an apprentice had never been assigned to a show of this magnitude and were looking forward to the challenges this next week would bring.
I was lucky enough to be one of those two, promoted to Broadcast Technician only a few months prior. Based on what I had learned during my Game Creek Broadcast Technician Apprenticeship, and what I had previously experienced on the road, I thought I knew what to expect at the "big show". Truth be told – nothing could have prepared me for this amazing experience.
"I can say without hesitation that it was an amazing experience and one that I will remember forever."
With over 200 people credentialed for the FOX Sports game broadcast alone, the crew was tasked with the enormous responsibility of bringing The World Series into over 12 million viewers' homes. From San Francisco, California, Game Creek Video provided FOX Sports with mobile production facilities for games three, four, and five. Game Creek's Dynasty A and B units, as well as Fox's D unit were for the game coverage. Game Creek's Clipper was used for "America's PreGame Show" as well as the "Chevrolet Post Game Show" on FOX.
The best way I can describe the World Series truck compound is…organized chaos. For the game broadcast alone, there were over 40 cameras in use at any given moment. From the standard hard cameras and handhelds, to specialty cameras like the dirt cams that were buried in front of home plate and behind first base, to the 4K cameras and numerous robotic and slow motion cameras, FOX Sports had the game covered from every angle. Other equipment used for the broadcast included Evertz Dream Catcher, Chyron's Hego and NCAM's camera tracking technology and virtual graphics. For the FOX broadcast there were 15 EVS servers in use at any given time.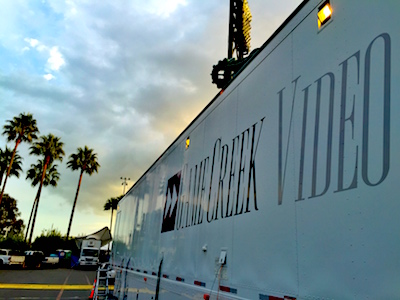 It was a challenge to integrate specialized client gear and problem-solve mountainous hurdles during a show of this scope. Each person had their assignment, but shared the responsibilities of the whole group selflessly. We came together to achieve a common goal. We were never out to serve ourselves but instead we were focused on serving Fox Sports and all of their viewers. That was everyone's common vision – and I'm confident that showed on the air.
Game Creek has some of the most talented and brightest minds in the industry. From logistics, to coordination, engineering and driving, they are all top-shelf. Each and every person at Game Creek Video is a true team player; it is upon these values that the camaraderie of Game Creek is built. The company is a family in which each member's skills are utilized and tied together to create something truly extraordinary.
As I now reflect on our time at the World Series I can say without hesitation that it was an amazing experience and one that I will remember forever. From that first early morning crew call there was no time to stop and smell the roses, caffeine quickly became a major food group. What I experienced in San Francisco is as close as I will ever come to being in a band of brothers. No man was ever left behind. As soon as one task was completed we would jump in and help another finish their task. Of all the things I expected as I walked over that drawbridge, the most abundant commodity and most impressive element was the camaraderie; and I will carry that with me for the rest of my career.
Spirit, Game Creek's Newest Truck
A Recount from Engineer in Charge, Brian Nupnau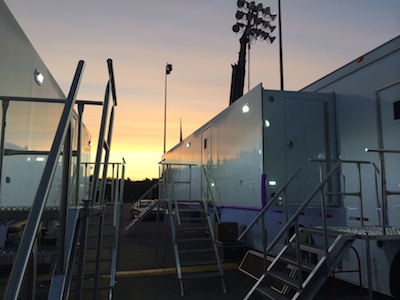 As the sun rises here in Bristol, CT at the Little League Baseball Playoffs, it really hits home that television, like sports, is all about teamwork. You will not have a winning team if you only have one or two players who do everything, it must be a group effort. This is also Game Creek Spirit's second show.
Almost a year in planning, the hard work of many people has finally come to fruition. What started out as some drawings many months ago has now turned into a beautiful state of the art mobile unit. From the drawings and design of Jason Taubman and Paul Bonar, to the skilled installers of Icon Broadcast, the many people at the office who contributed, the apprentices who assisted in testing of the trailers, or my fellow engineers on the truck, Paul Saffell and Mike Duke, everyone worked tirelessly to build the best truck possible. We have one of the best teams in the business, and it is very evident in Spirit.
We normally try and do a smaller show for the rollout of a new truck, or at least have a set day just to be safe. This time we really flew without a net as the first show for Spirit was a same day set shoot strike, a FOX MLB national broadcast. The show went off without a hitch; it was a true testament to everyone who worked so tirelessly to get the truck ready. There are miles of cable and thousands of connections, every single one was checked and re-checked to make sure the truck was perfect. I have been on many first shows of newly built trucks and I can honestly say this was the first time I was not worried or concerned that something was missed. Spirit is an awesome addition to the Game Creek fleet.
THE 2014 NBA FINALS
A Recount from Senior Technical Project Manager, Michael Francis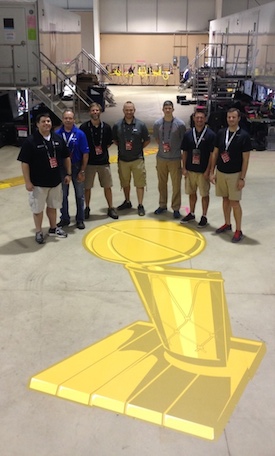 It may have been a do-over for the San Antonio Spurs and the Miami Heat in the 2014 NBA finals, but it was a chance to explore innovative ideas for Game Creek Video's broadcast team.
ESPN/ABC is known for pushing the limits of their telecast coverage of live sporting events and the 2014 NBA Finals were no exception. With over 40 cameras and 40 channels of replay, every conceivable angle was covered to the delight of millions of viewers and officials needing to review close calls.
Game Creek Video's Pride and Glory teamed up to provide the production facilities for coverage from the AT&T Center in San Antonio. This venue provided what our crew deemed to be "the greatest broadcast compound in all of sports" – an indoor, air-conditioned Expo Hall right outside the arena. The complex housed the Game Creek production units as well as the other rights holders for the Finals.
Pride A and B integrated with Glory A and B, making one of the most powerful super trucks on the road. Combined, the trucks were easily capable of handling the infrastructure necessary for a show of this scale. Glory A housed the main production control room as well as work space for half of the replay operators, the main audio control room, and the main video operator work stations. Glory B contained graphics and an editing suite. Pride A was utilized for additional replay, submix audio, and additional video. Pride B handled ESPN Deportes coverage, as well as communications and transmission engineering.
All connectivity to the arena was accomplished with 288 strands of single-mode fiber optics bundled together in 4-72 strand tactical mults, while the vast majority of the truck-to-truck signal flow was interconnected over fiber, minimizing the amount of cables used and keeping the compound very clean.
Additional new technology initiatives at the Finals included multiple 6-times super slow motion cameras, allowing for clean slow motion at 480 frames per second. This gave the show a distinguished looking replay from multiple angles. Four 1080/60p cameras being recorded in an EVS Epsio allowed zooming in on a camera angle for greater picture clarity.
Game Creek's Ross Granger and Jeff Millet engineered the trucks and coordinated the various video and audio feeds. Ross and Jeff, along with engineers Dan Nabors, Mike Duke, Ray Laird, Joel Thomas and Terrance Sullivan and drivers Kenny Rich, Ron Clark, Jim Peschka and Tom Buranich did a great job of making the entire event run seamlessly.
This event marks another successful collaboration in the longtime partnership between Game Creek Video and ESPN.
The Launch of RiverHawk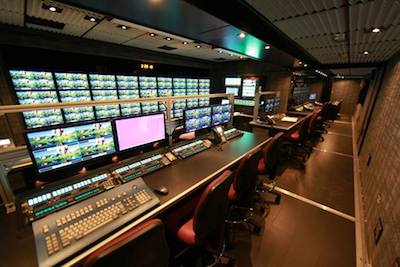 Game Creek Video is proud to announce the newest addition to our fleet, RiverHawk. A 3G High Definition single unit production truck, RiverHawk is at the cutting edge of new broadcast technology. One of the most remarkable new technologies onboard RiverHawk is the GCV Truck-to-Truck (T2T) fiber interconnect system, which is being incorporated as standard in all new Game Creek units. The trucks that have this system save the crew massive amounts of time and physical labor in setup and strike. A truck like RiverHawk can be easily expanded to incorporate a B-unit and allow for a larger show to take place. The lucky guys at the helm of RiverHawk are engineers Brian Ristine and Matt Caron and driver Ty Schlender, a dynamic team that is both smart and savvy. We like their style!
A Recount from Engineer Brian Ristine
Every new production truck gets put to the test when it arrives for its first live broadcast. As a general rule, the first show undertaken by a new truck is usually a small event that is somewhat close to the field shop, having a lot of resources at a close distance. The reasons for this are plentiful and are all important to maintaining the reputation and integrity of a new Game Creek mobile unit.
Sometimes rules are meant to be broken. When Game Creek Video was asked to provide facilities for FOX Sports at the 2014 U.S. Open in Pinehurst, N.C., it was clear that its newest truck, RiverHawk, was the perfect truck for the show. And so she was put on her way down the east coast for a very big test, producing live television right out of the shop for one of the biggest events of the year. Game Creek Video has always had and continues to show a high level of innovation, supported by a strong foundation of knowledge, process, and thoroughness. This framework was applied to every aspect of the truck build process, and made the decision to send RiverHawk to the U.S. Open a confident and rewarding one.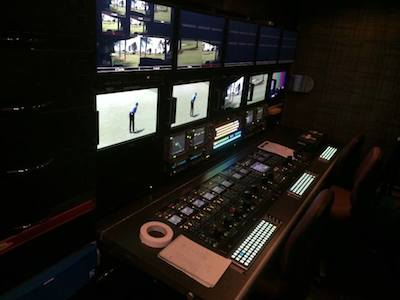 We arrived in Pinehurst with typical emotions: we were excited, nervous, and, most importantly, ready to go. We had spent four weeks testing, configuring, gathering, and packing. Today was the day we got to display RiverHawk to the world. Not surprisingly though, that was the pinnacle of the drama we experienced through the week. Once the crew came and settled in, things became "business as usual." The truck performed just like it should and everyone was happy. And at the end of it all, it was settled that sometimes breaking the rules produces the best results.
The 2014 US Open at Pinehurst
A Recount from Project Manager Mike Copeland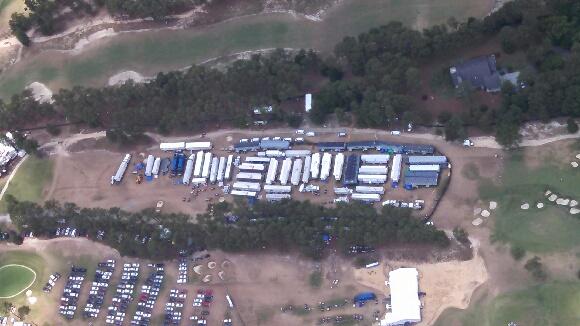 This aerial shot may bring to mind images of a crowded campground, but in reality you are looking at the eighth fairway of Pinehurst's famous course number 4, during the week of the 2014 U.S. Open.
Three separate Game Creek Video production units, consisting of five trucks, contributed to this impressive group of vehicles producing shows for both domestic and international networks. First, Game Creek Larkspur was host to several daily ESPN SportsCenter broadcasts and helped in the cross-conversion of the 60+ cameras provided by the host broadcaster. Game Creek Northstar housed production control and audio mix facilities to broadcast the several feature groups chosen by the USGA. Finally, along with Northstar, the three trucks of the FOX unit worked as the main distribution point for audio and video elements for each of the shows in the compound, as well as providing separate control rooms for two additional shows produced by ESPN for their distribution to ITV in the United Kingdom.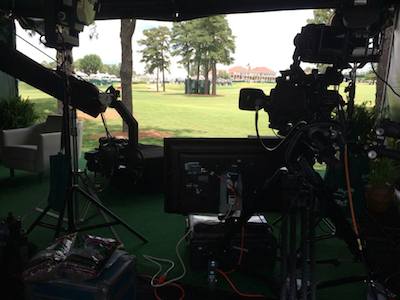 FOX A housed the core engineering areas, the audio mix room for additional broadcasts of the daily feature groups, 5 six-channel EVS XT3 servers and their operators for the replays in each of the three shows, as well as video shading control for both fiber and RF connected cameras used to supplement shots in each individual show. FOX B housed a Grass Valley Kayenne production switcher as the centerpiece of production facilities for the second feature group, as well as a GVG Kayak and Yamaha M7CL audio console used for a dedicated feed of the ninth and eighteenth holes of this historic course. A team of five drivers parked at set up the Game Creek mobile unit with perfect precision. Seven Game Creek engineers were on site for twelve days to bring these shows to a flawless conclusion.
Game Creek Video looks forward to a much larger presence at next year's US Open at Chambers Bay in University Place, Washington.
NASCAR 2014 Season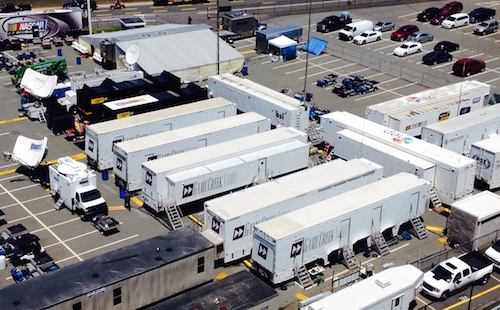 Everyone has seen a NASCAR Sprint Cup series racecar grind to a halt in pit row. As it comes to a stop, a swarm of people emerge around the car; a highly skilled team working to strategically optimize the functionality of this high-tech vehicle to give it the best shot at winning the race. What most people don't think about is the expertise, skill set and fast pace it takes to bring that image from pit row to your screen at home. The Game Creek NASCAR crew has a huge part in presenting that image to the audience.
For 2014, there were six Game Creek Video High Definition mobile production units involved in capturing all the NASCAR Sprint Cup series on Fox. Each unit has a very specific purpose in creating the single broadcast sent out to the world. FX A contains the replay operations, video shading, audio mixing, and engineering areas. FX B is the heart of the production; home to the Producer, Director, two Technical Directors, and graphics production. FX C has multiple edit suites and is used for editing highlight packages using Final Cut Pro. The FX D unit is an extension of audio, with two suites for sub-mixing the multitude of in-car microphones and those placed around the track, which will be integrated into the A-unit mix. The FX E unit, dubbed the "Hollywood Hotel" as an homage to Fox's LA headquarters, is a mobile studio that is the nucleus of live, on-site pre-race and post-race coverage. It is the only truck of its class in the Game Creek fleet. Finally, GCV-B1 housed overflow replay workstations, graphics, and new FOX technology initiatives and projects.
NASCAR on Fox has an exceedingly large and consistent viewership: twelve and a half million people tuned into the Daytona 500 at the start of the season in February. Sixty-seven and a half hours of broadcast occurred in 11 days. Every race is a massive production; from pit row, to the announce booth, to the TV compound. Just like a championship winning pit crew, GCV's EMMY winning broadcast engineering team comes together each week to produce the seemingly flawless spectacle.
"These six trucks and their dedicated team of 7 engineers and 6 core drivers tour the country for 16 weeks. The NASCAR crew is an unbeatable team, unique not only for its effort, energy and passion, but also for its close, family like bond."
The Daytona 500 sets the groundwork for the remainder of the season, as each week thereafter a similar broadcast routine takes place. On Tuesday or Wednesday of race week, the trucks arrive at the track, many times after a "double team" drive across the country. Two drivers are often required in order for the truck to arrive at the next venue legally, safely and of course, on time. They make journeys from Daytona Beach to Phoenix, Las Vegas to Bristol, and Bristol to Fontana, just to name a few. This means that the truck only stops for necessities, as one driver drives while the other sleeps, doubling the efficiency of the drive.
When the trucks arrive on-site, the engineering and production crew take over. After two days of technical setup, the truck is on the air Thursday and Friday, handling live coverage of practice runs, qualifiers, and truck racing. Saturday is then the Nationwide Series race, and Sunday is the flagship Sprint Cup Series race. On average, over 15 hours of coverage is produced from the compound each week.
These six trucks and their dedicated team of 7 engineers and 6 core drivers tour the country for 16 weeks. The NASCAR crew is an unbeatable team, unique not only for its effort, energy and passion, but also for its close, family like bond. It is something very unique and is rare in a lot of workplaces.
So, next time you see a race car speeding into pit row and watch the pit crew spring into action, remember to appreciate the hundreds of folks running around at the same pace to bring it to you and the world.
We would like to send a big thanks to our NASCAR Engineers and Drivers for making it a great season!
Take a behind the scenes video tour! click below!
New York Mets Opening Day
A Recount from Engineers Lucas Males and Riley Helsen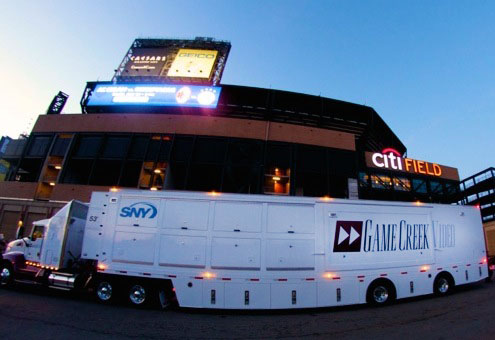 After a particularly memorable winter in the northeast, it was hardly a surprise that it was unseasonably cold for the New York Mets Opening Day. After three days of preparation, it was finally time to showcase Game Creek Video's newest mobile unit (appropriately named 'Amazin') at Citi Field in Flushing, New York. Despite the cold temperatures and rain, the SNY production team, the local crew in New York, and operations staff at Game Creek Video came together to broadcast the Mets opening day match-up against the Washington Nationals.
Throughout March, the Mets had played at their spring training home in Port St. Lucie, Florida. By opening day the crew was all too familiar with the cutting edge gear on Amazin'. Ten of Sony's HDC2500 cameras paired with a fleet of Canon XJ100 and XJ95 lenses provided brilliant images for Game Creek's newest client, SportsNet New York. In addition to Sony cameras, SNY also utilized three high frame rate camera setups—one Nac Hi Motion and an XMo, and a two-phase high frame rate option available on the Sony HDC2500. The flexibility to turn any camera head into a high frame rate system allows SNY to change where their enhanced replay is in the stadium without having to physically move camera equipment around. The abundance of SMPTE fiber cable in Citi Field further allows that flexibility. Four Fletcher robotic cameras are also wired in for every home Mets game giving SNY unique perspectives of the stadium.
"Every client wants to stay ahead of the technology curve. The foresight and versatility in the design of Amazin' provides Sports Net New York with room to grow their production." -Riley Helsen Game Creek Video
SNY's transmission has a larger presence than most RSNs. Seven total outbound paths allow for flexibility and efficiency in delivering content to the studio in Manhattan. The network is also one of the few RSNs to deliver 5.1 Dolby Surround Sound on all home and away games.
Game Creek's transition into this new client and contract was seamless for a number of reasons. Most notably, the operators and technicians in the New York market are already so familiar with the design and infrastructure available on Game Creek mobile units. These trucks have built a reputation in the television industry as being highly adaptable and highly dependable. A huge advantage for the operators at Citi Field during the first days of setup was the fact that the main I/O for audio and video of the mobile unit has stayed virtually unchanged across much of the fleet. This allows crews to develop paperwork and organization that can apply to more than just one mobile unit. Crews know what to expect and they get exactly that.
During the initial setup and installation time, our job is to be the liaison between people and technology. We need to ensure that we build a foundation that can be used to drive all future broadcasts for the season at Citi Field. The satisfaction of this profession comes from knowing that at the end of the workday, you provided the best tools and technology you could while doing it in the smoothest way possible.
By afternoon on opening day, we were on the air with the first pitch for our brand new client in our brand new mobile unit. Opening day is in the books, 161 games to go…
Superbowl XLVIII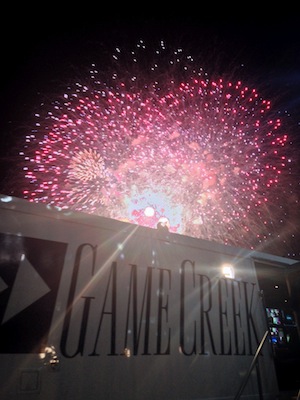 Super Bowl XLVIII in New York/New Jersey was the largest single event in Game Creek Video's 21-year history. Twenty three mobile units serviced three of Game Creek's largest clients, all focused on providing viewers with non-stop coverage of the Super Bowl, the most watched television event in American history. It was an incredible undertaking, through brutal weather conditions and many unanticipated challenges. It was also a tribute to our employees who are dedicated to being the best at what they do. Despite the lopsided victory for the Seattle Seahawks, Super Bowl XLVIII was a great success for Game Creek Video.
Weeks of preparation, long nights, and "behind the scenes" hard work by our office staff, drivers, engineers and project managers enabled 111.5 million people to tune in to see the technically flawless telecast by Game Creek Video. Our mission is to provide our customers with the industry's best technical, logistical and production support along with the world's most state of the art high definition television technology. Super Bowl XLVIII: Mission accomplished.
Our mission is to provide our customers with the industry's best technical, logistical and production support along with the world's most state of the art high definition television technology. Super Bowl XLVIII: Mission accomplished.
Superbowl Boulevard
Game Creek Video was all over Super Bowl Boulevard on Broadway in Manhattan. From Times Square to Herald Square, GCV was on hand to service three separate clients, all with the same goal of providing non-stop pregame and post game coverage of the big game. In Herald Square, Justice and GCVB2 serviced ESPN's coverage of SportsCenter, NFL Live, and hundreds of hours of additional programming. A few blocks up on 44th Glory A&B serviced NFL Network's non stop coverage. Amazin', Clipper A&B and Intrepid A&B were at Lincoln Theatre and outside Media Row at the Sheraton Hotel servicing live coverage of Radio Row, and live press conferences for NFL Network.
Superbowl XLVIII: Times Square
A Recount from Engineer Steve Molnar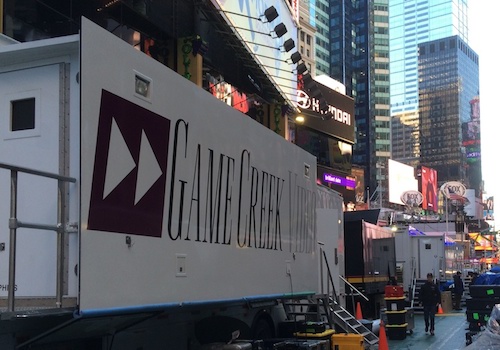 Even at fourteen degrees the quick pace of our boots barely leaves time for ice or snow to form as we eagerly approach the compound between 47th and 48th street. The hum of generators, clanging of hammers and many chirps of walkie talkies easily set the stage for what would be our coliseum for these modern day gladiators in the two weeks to follow. Looking over my shoulder as I climb the stairs of Dynasty's A unit a colossal figure stands towering over me. Fox's mascot, Cleatus raises his arms as if to greet us; welcome to the Super Bowl in Times Square, Gentlemen.
This event was an opportunity for all of Game Creek, its engineering and operations staff to shine and show the world that we continue to be the trailblazers in our industry.
Within only a few hours of being on site it becomes completely transparent to us that we are standing at the threshold of one of the largest, if not the largest multi-truck interconnected event in history. The facilities at Times Square represent the hub for every circuit and packet based signal that will be a part of Super Bowl XLVIII. It's an infrastructure organized by the very best in our industry unlike anything I have ever been a part of before with every single major network including FOX, ESPN and NFL Network producing their content in a Game Creek Video mobile unit.
As the days progressed in Times Square we would find ourselves integrating several new technologies to Dynasty's already stellar infrastructure. A 10 gig pipeline was interfaced with the second network ports of our EVS servers allowing file transfer between Fox's Edit suites at the Millennium hotel and our mobile units on site at Met Life. Multiple Adam expansion cards including RTS's new Omneo ip-based trunking card made it possible for production crews at Times Square, Met Life, the Red Carpet show, the Pre-Game show and Pico in California to communicate with the click of a Keypanel toggle. Calrec's Hydra expansion frames were used as a fiber booth kit and 10 inbound video remotes capable of full 5.1 embedded audio made multi-location hits achievable.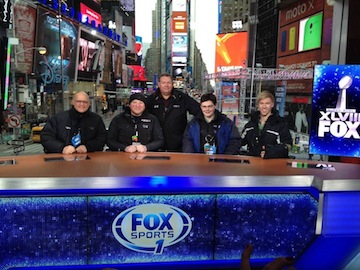 Team Dynasty, made up of Mike Martin, Paul Bonar, Matt Caron, Jared King and myself along with our amazing crew and Fox's Director of technical operations (a former Game Creek Engineer), Kevin Callahan's, vivid technical imagination ensured the success of this complex production and helped wrangle every potential nightmare into submission. We always take pride in our work and the best feeling is when you're able to have fun being apart of such a high profile event. Not without incident, the skills and experience of Game Creek's team Dynasty were in full effect in the 13 days we called 47th and Broadway our home. For example, if you are saving an Evertz router salvo and the moment you click the save salvo button you lose all the sources in your production monitor wall, it could just be that one of your V2's has simply chosen to turn off the SHED farm at that exact same moment. Integrating the additional network switches and equipment necessary to facilitate the 10 gig EVS pipeline presented its own set of challenges and was spearheaded in surgical fashion by both Matt and Jared. Juggling the engineering tasks involved in producing 5-9 shows each day out of Dynasty was handled by Mike Martin and myself with the utmost hospitality and professionalism that clients have come to expect from Game Creek Video employees. And when you're completely stumped and can't seem to find an answer, that's why you have the support of a wise sage like Paul Bonar on site as your Production Manager.
This event was an opportunity for all of Game Creek, its engineering and operations staff to shine and show the world that we continue to be the trailblazers in our industry. We were the catalyst for Fox breaking the viewership record with 111.5 million people watching Super Bowl XLVIII. Not to mention accomplishing all of this in the middle of an icy, snow-laden nor'easter.
Sometimes you have to chisel through ice and snow while you're swimming in the deep end. Cheers to us!
Superbowl XLVIII: The Stadium
A Recount from Engineer Keith Martin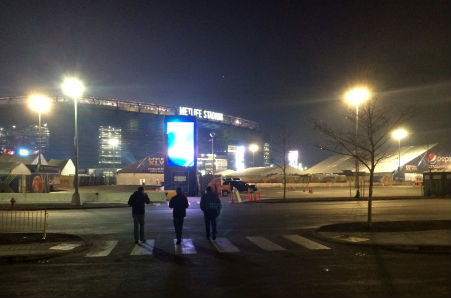 The sun won't be coming up for at least another hour as we walk toward the TV compound at MetLife Stadium. It's actually very fitting that today's game also happens to fall on Groundhog Day. This is our twelfth day on site but when it comes down to it, this is the only one the American public will ever hear about. The eight engineers working the game on FX HD have already put in 140 hours and we are now a mere twenty hours from completing the largest television event that any of us have been a part of.
A year of planning culminates in one night of fantastic looking television, a dud of a championship game, and an incredible spectacle of modern technology. Of the 56 cameras put to use in the show, there are 6 Sony F65 4K cameras as well as 4 Inertia and 6 Sony high frame rate cameras. We've got 70 simultaneous record channels and 48 replay channels including 3 channels of 4K replay thanks to EVS Epsio Zoom. We have built up a 10Gbps network that spans the Hudson, allowing the trucks and edit facilities at Times Square to move files back and forth as if they were right here with us. Using Signiant, operators at Fox back in LA were able to dig into this massive media database and transfer over 1500 clips by the time of the game's completion.
On a show of this size, the now eight-year-old FX trucks truly shine. These trucks were far ahead of their time when they were built and it still shows. While I will never say that it was an easy task, we were able to build this show up from the existing infrastructure without needing to reinvent the wheel. It is that foresight that earns Game Creek Video's mobile units the reputation that they are known for throughout the industry.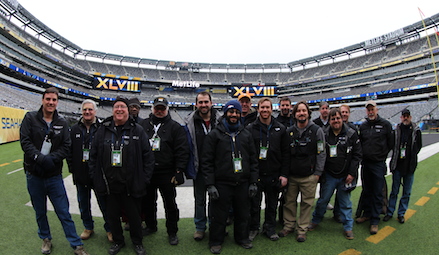 That being said, all the technology in the world is nothing without a solid support squad behind it. The core FX team of Mike Copeland, Doug McGee, and myself is supplemented by Ray Laird, Lenny Batson, Mike Ryan and project managers Bryan Rule and Jason Taubman, each taking on a multitude of tasks to help put this puzzle together one piece at a time. Of the 18 engineers working the Fox shows on both sides of the river, only five have ever worked a Fox Super Bowl before. The ensemble of new talent that Game Creek has pulled together over the last five years is a feat to be applauded in and of itself. Five years ago, I was learning how to build triax. A month shy of 28 and I've just fulfilled a life's dream.
There are some things in life that are great to be doing and others that are great to have done. Super Bowl XLVIII falls squarely into the latter category. It was an outstanding technical achievement that drew 111.5 million viewers, the most in U.S. history. It was an incredible thing to have been a part of. It was just another day in the life of a Game Creek engineer.
Thank you and congratulations to everyone involved in helping us make history.
Next stop: Daytona!
The BCS National Championship Game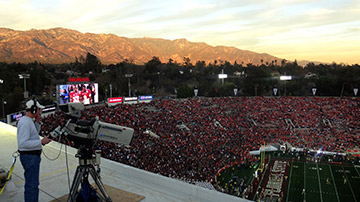 The production of the 2014 BCS National Championship Game in Pasadena, California was a huge success for Game Creek Video. Game Creek's engineering, logistics and transportation teams came together to make the largest production of a college football game seem effortless for our client.
The "Megacast" as it was known, utilized five Game Creek Video production units: Victory A & B, Justice, Gemini, Larkspur, and had over 26 million viewers. Victory A& B provided the main game coverage. Gemini and Larkspur provided the additional support for the client's BCS Command Center, which included isolated cameras and its own window dedicated to rolling live replays. Larkspur, as it does throughout the football season, provided the support for the College GameDay show pre- and post-game.
"An experience unlike anything ever seen before".
~ Client Operations Team on GCV setup and broadcast
There were 63 cameras, 72 microphones and over 200 people in the production crew. Game Creek provided 9 engineers and 1 project manager to coordinate and execute all of the routing and integration of our trucks. The seamless integration made the complicated multi-platform show manageable. Game Creek's outstanding engineers led by Engineer in Charge Brian Nupnau and Project Manager Mike Francis, helped take the show to the next level that the client was hoping for. Overall, the client's operations team described the setup and broadcast as an "experience unlike anything ever seen before."
In the weeks leading up to the event, Game Creek Video was tasked with gathering the information and coordinating the BCS National Championship Game, Rose Bowl, Orange Bowl, Sugar Bowl plus over 50 other shows during that time period. There was a very small window of opportunity, especially over the holiday season, to gather, organize and ship over 100 pieces of equipment across the country from the New Hampshire headquarters. This effort, led by Logistics Manager Gabe Perceval, was extremely important to the success of the broadcast. The equipment was color-coded and segmented into small shipments to ensure it went to the correct production unit. Incredibly, it was all completed in a 3-4 day time span.
The transportation and travel departments came together to bring the engineers, drivers and mobile units from as far as New York and New Orleans. The routes and timing of arrival had to be perfect.
It took twenty-five Game Creek Video employees less than two weeks to help take the multi platform telecast to a new level. Game Creek looks forward to assisting the client with its future productions of the brand new college football playoff system.